Details

Written by:

Julius Perdana

Category: Celebration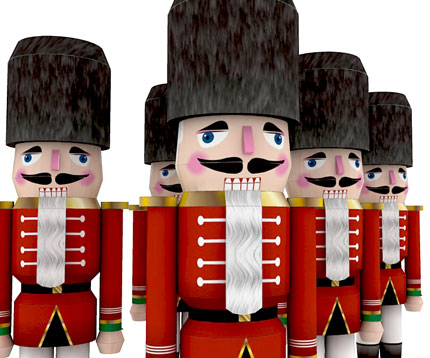 Nutcrackers in the form of wooden carvings of a soldier, knight, king, or other profession have existed since at least the 15th century. These nutcrackers portray a person with a large mouth which the operator opens by lifting a lever in the back of the figurine. Originally one could insert a nut in the big-toothed mouth, press down and thereby crack the nut. Modern nutcrackers in this style serve mostly for decoration, mainly at Christmas time. The ballet The Nutcracker derives its name from this festive holiday decoration. The carving of nutcrackers—as well as of religious figures and of cribs—developed as a cottage industry in forested rural areas of Germany. The most famous nutcracker carvings come from Sonneberg in Thuringia (also a center of dollmaking) and from the Ore Mountains. Wood-carving usually provided the only income for the people living there. Today the travel industry supplements their income by bringing visitors to the remote areas. [More at Wikipedia]
Details

Written by:

Julius Perdana

Category: Celebration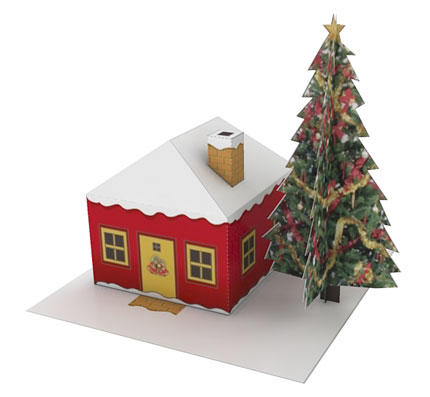 A simple Chrismas House model for kids. I made this model for Christmas Church magazine on my neighbor. Simple enough for kids or newbie to assembly this snowy red house. The Christmas tree is also very simple. I hope you enjoy this model and Merry Christmas!
Christmas, also referred to as Christmas Day or Christmastide, is an annual holiday celebrated on December 25 that marks and honors the birth of Jesus of Nazareth.The birth of Jesus, which is the basis for the anno Domini system of dating, is thought to have occurred between 7 and 2 BC.December 25 is not thought to be Jesus' actual date of birth, and the date may have been chosen to correspond with either a Roman festival, [More at Wikipedia]
Details

Written by:

Julius Perdana

Category: Celebration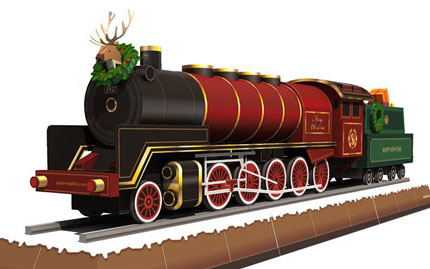 Only took 2 days to model this christmas train, but I quite satisfied, especially the color. The model train is almost fictional but based on a photo reference, I don't know yet the type of this old locomotive, modeled with looking at the photo and transfer it to 3d model, no measurement no scale, just for fun. I hope you guys having fun with this model, build together with family or build for someone for a gift on christmas day. You may made modification or recolor the pattern, but please at least mention paper-replika.com if published to public.
Details

Written by:

Julius Perdana

Category: Celebration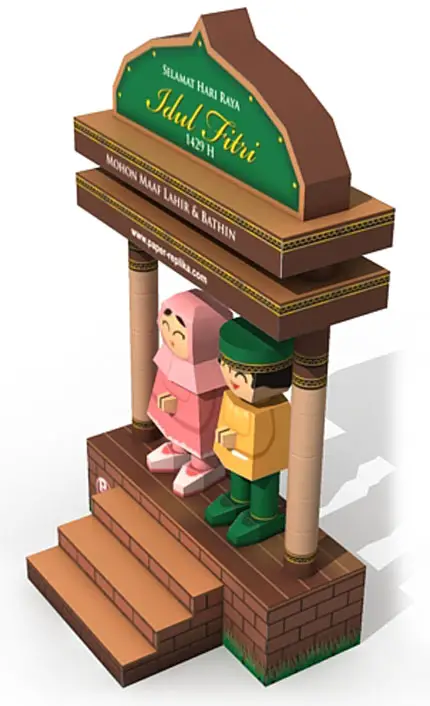 PAPER-REPLIKA.COM greets you HAPPY IDUL FITRI 1429 Hijriyah , for you who celebrates. May peace upon our world. Eid ul-Fitr or Id-Ul-Fitr, often abbreviated to Eid, is a Muslim holiday that marks the end of Ramadan, the Islamic holy month of fasting. Eid is an Arabic word meaning "festivity", while Fiṭr means "to break the fast" (and can also mean "nature", from the word "fitrah") and so symbolizes the breaking of the fasting period.

Eid ul-Fitr is a three day celebration and is called "The Smaller Eid"  compared with the Eid ul-Adha that lasts four days and is called "The Greater Eid". [wikipedia]