I read about Hunger Games movie yesterday, it's about a survival game that take in the near future when north America collapsed because of war and drought. I never watch it yet, although it's already in theater in my country. Then I search on Google is there a paper craft of it, I found nothing except a Hunger Games fans website is looking for artists to submit their work for the website's craft. Because I never watch it yet, I Google about Hunger Games movie props then found an easy prop, this nylon sack. I research a bit and found out again apparently there are 12 sacks that represent the 12 districts in the movie that also an adaptation of a novel trilogy with the same title. Sack number one represents Luxury District, 2  for Masonry, 3 for Technology, 4 for Fishing, 5 for Power, 6 for Transportation, 7 for Lumber, 8 for Textiles, 9 for Grain, 10 for Livestock, 11 for Agriculture and the last, 12 represents Mining District. I noticed on the net the sacks have different color in sack 2 and 5 with brown stripe and sack number 12 and 11 use black stripe, so I was guessing there are 2 groups the first six and the rest, brown and black. The shape is simple but the font that is used on the number was hard to find, I also ended up  guessing they use a modified Boom Box font for the number. The scale is 1:6.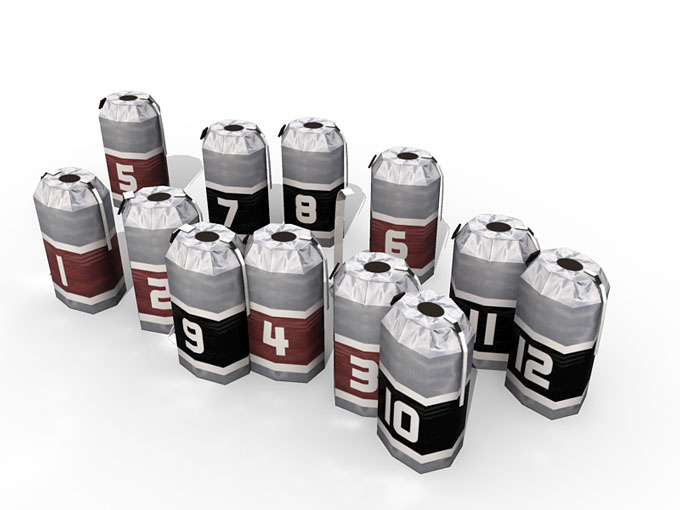 Document license
You may freely distribute or give away these paper models to others without prior permission from the designer, you may modify with the credit to paper-replika.com. Feel free to add any of these paper models to your website or blog, with the link to paper-replika.com model pages. Do not use direct link. Uploading to mass file storage for public view is forbidden, including, but not limited to, rapidshare, mediafire and others which provide similar service. All images are copyrighted. Permission is granted ONLY for non-commercial personal use. They may not be duplicated in any form, including electronic, mechanical or printed, for sale. All rights are reserved and duplication by any means,including, but not limited to, methods of printing, electronic storage and disk copies, is prohibited without permission. If you wish to use this artwork and instructions for other than your own personal use, like for a club contest or school program,PLEASE contact paper-replika.com for written permission.
This work is licensed under a
Creative Commons Attribution-NonCommercial-ShareAlike 3.0 Unported License.
No Warranty is provided whatsoever. This material is provided on an as-is basis with no support and no warranty. All real life objects belong to its respective owners and designers.
This pattern never been tested, some minor errors were found in several of previuos models, please be advise maybe you will find errors such as missing tabs or unnecessary tabs, despite the models never been tested, many have succeeded build all of them perfectly, just need little imagination and dedication to this hobby.
To download this file you DO NOT NEED to be registered as a member, Registration whatsoever needed to join paper-replika.com FORUM and to give comments on articles. Paper-replika.com NEVER share your identity or sale to third party, and it will be kept safe.
We use third-party advertising companies to serve ads when you visit our website. These companies may use information (not including your name, address, email address, or telephone number) about your visits to this and other websites in order to provide advertisements about goods and services of interest to you. If you would like more information about this practice and to know your choices about not having this information used by these companies, click here.
PASSWORD : paper-replika.com (case sensitive)
Open PDF file with Adobe Acrobat Reader, PDO with Pepakura Viewer.
The assembly instruction is not include with the file that you are about to download. You can find the assembly instructions of this model with just go back and browse previous page.
Agree and download