Page 1 of 3

This model is a request from Paper Replika new Facebook group, Paper Replika Friends. On that group you can discuss about every model made by Paper Replika and also you can make suggestion or request of model that you like and want to be made as paper model pattern. Every request will still filter by me, and only approved requests will be made. This RPG-7 paper model template contains 30 pages of patterns. The scale is 1:1, so I also made its inner construction. The warhead can be detach but with simplified model. I recommend to use 200 gsm paper and thicker for its inner constructions. This Soviet portable  unguided rocket missile is very popular heavy weapon among armed forces in many countries. Some countries copied its design or reproduce under license.
WARNING : It is made of paper and will not actually shoot, just for display purposes. Please be advised, it may built with paper but it surely look like a REAL weapon, please do not use it other than display purposes, such as carry it around on public places. You could have problems with authorities. You can disassemble it when transporting. On some countries possessing this kind of model is illegal, please be sure before making the model.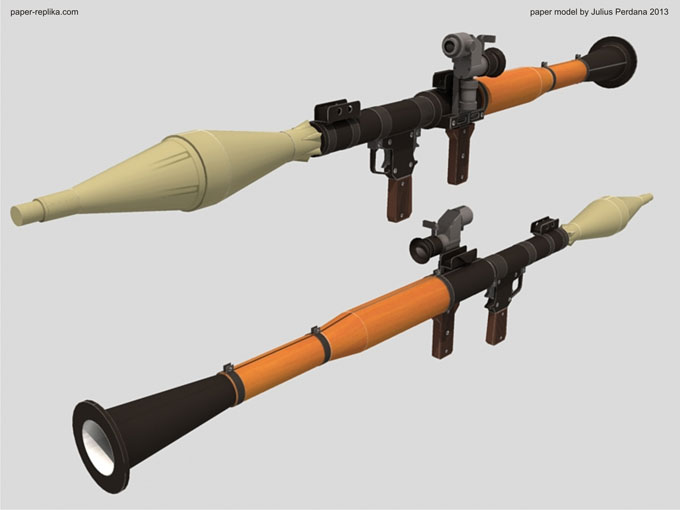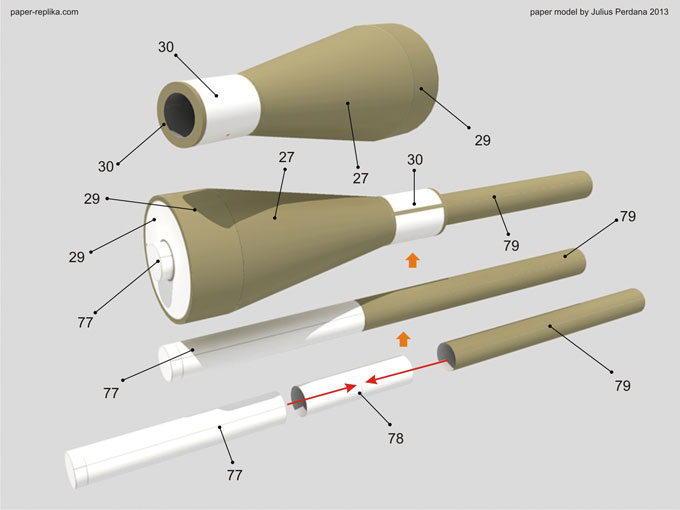 Assembly construction stick for the projectile warhead (77 and 79) using part 78 inside them. You can add additional rolls of paper inside it to add strength if you want to. Attach the stick with back part of the warhead (29,27 and 30)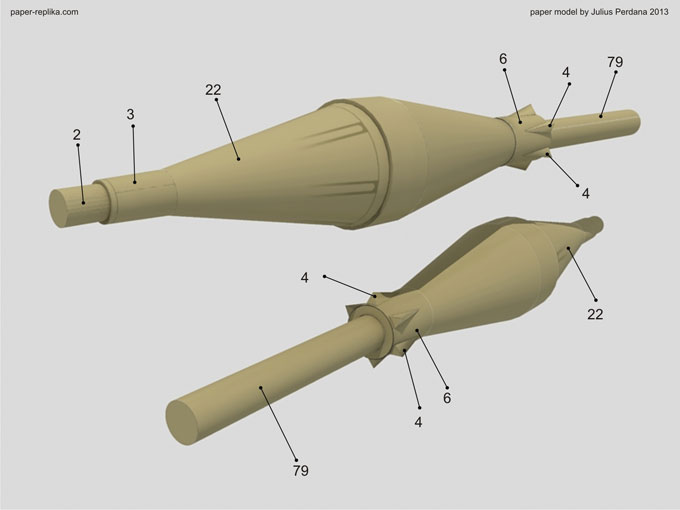 Complete the warhead by adding part 2,3 and 22 on the front segment and part 6 and fins (part 4)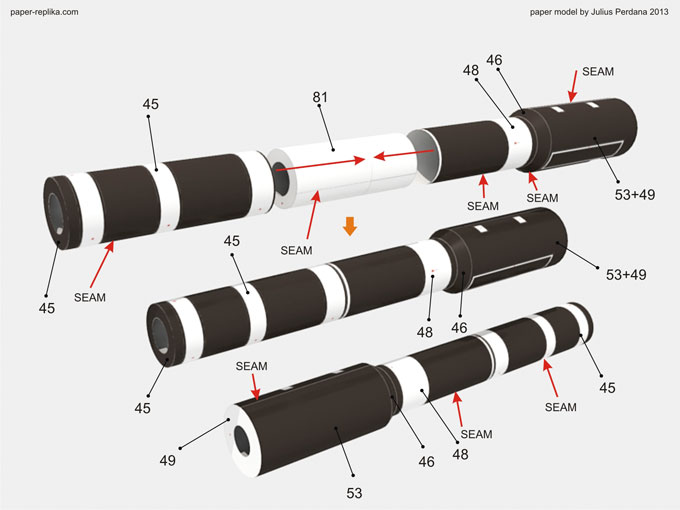 Assembly the middle part of the launcher (45,46,48,53 and 49) using part 81 inside part 45 and 46. All part's seams are at the bottom except for part 53, its seam is on top. You have to be careful not to make mistake on those seam alignments.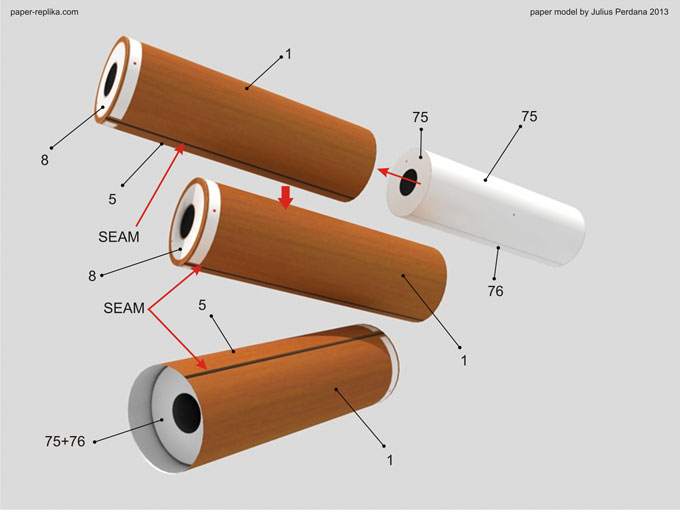 Assembly the wooden heat cover part (1,5 and 8) and then insert part 75 on the inside. Push part 75 until it touches the inner side of part 8, add glue to make them stick together. Align both seams on top and bottom.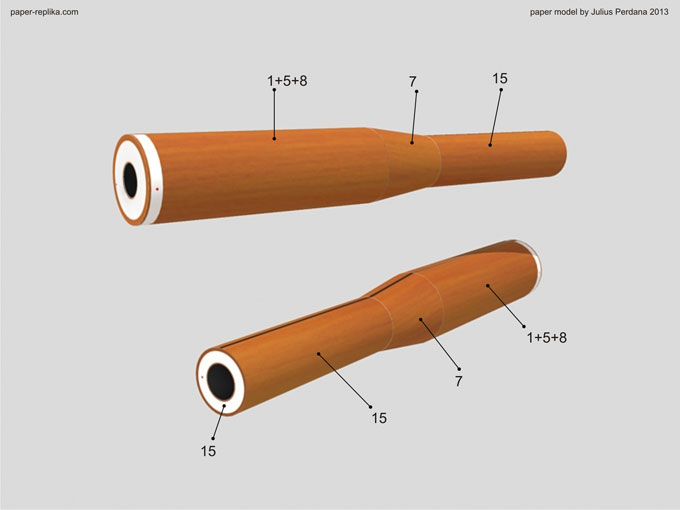 Complete the wooden heat protection cover with part 7 and 15.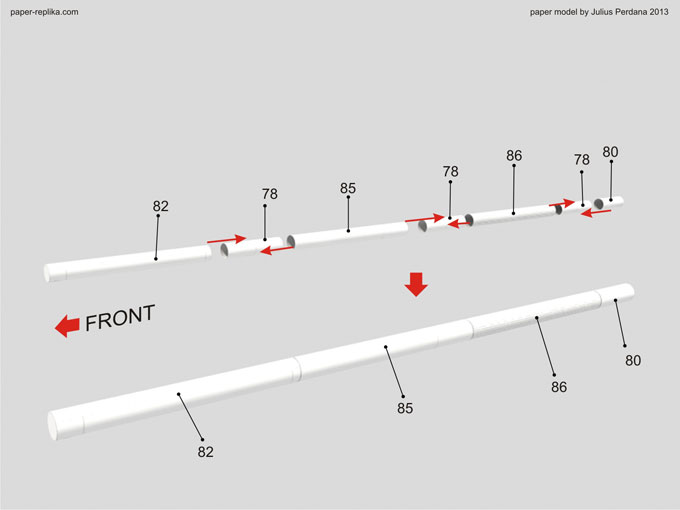 Assembly the constructions stick part (82,85,86 and 80) with part 78 inside them. You can add more roll of paper or thicker paper inside it to add strength.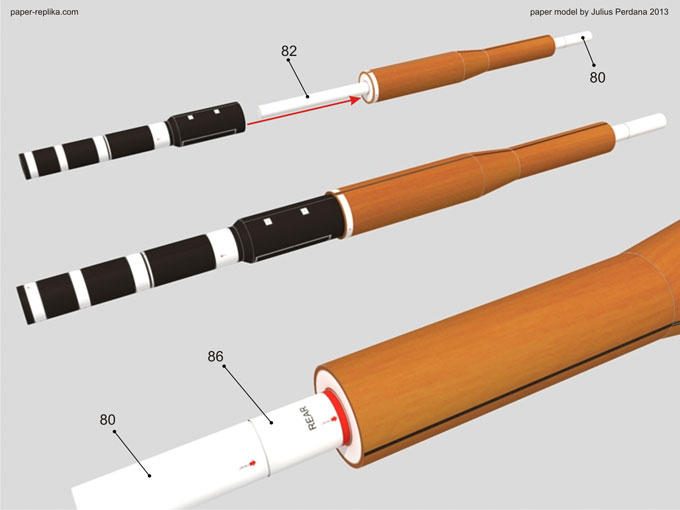 Combine front and middle part of the launcher with previously assembled construction stick. Watch the red line on part 86.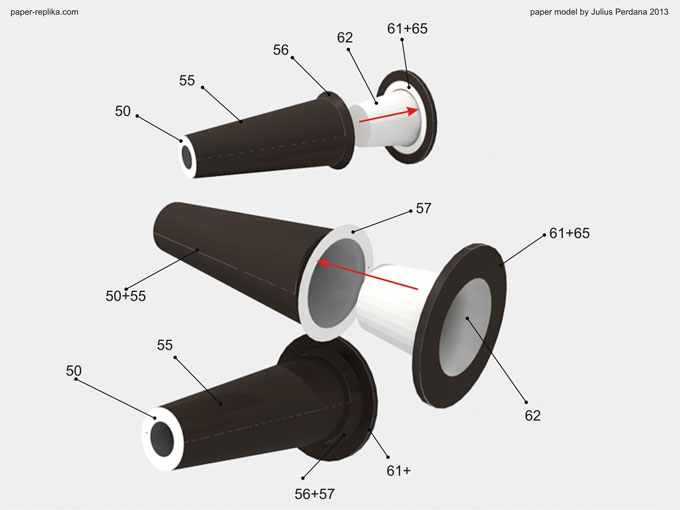 Assembly the rocket exhaust cone part (50,55,56,5,61,62 and 65). Valley fold on part 62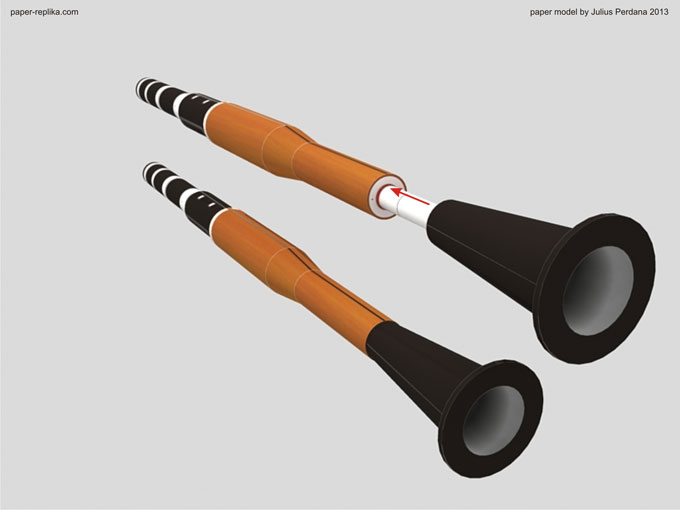 Combine the exhaust cone with the rest of the launcher base.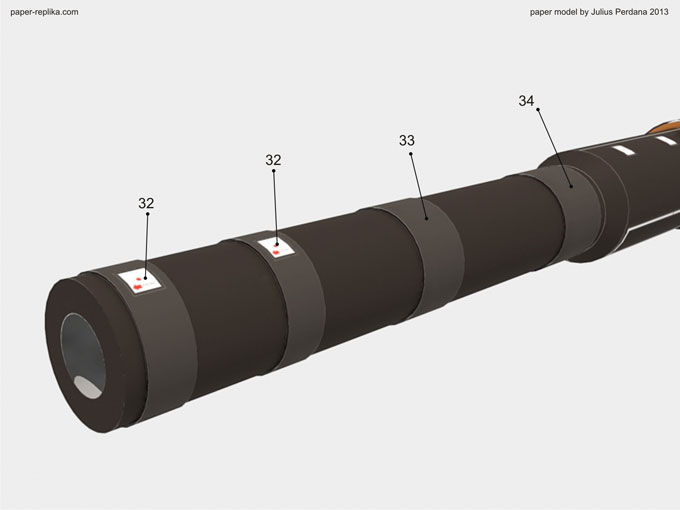 Add details according to the image above.