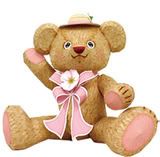 Model from CREATIVE PARK - Canon. Stuffed toy bears take the name 'Teddy Bear' from the 26th President of the United Sates of America, Theodore Roosevelt.
Floral Teddy Bear is a flower-themed teddy bear and loves to go out with flowers in her hat and ribbons. Why not taker her with you next time?
The fun doesn't stop with the assembly of this "Floral Teddy Bear"; the arms and legs are movable so you can enjoy posing your teddy in different ways. Why not experiment with your own original poses?